These are some of the pieces I currently have available either directly from me, or available on the secondary market. These are from limited editions I have made, or one-of-a-kind pieces. For current availability and pricing, please click here to email Paul Schürch.
#1 Spin Cabinet Edition #3 of 3 – $18,200.-
#2 Backgammon Table (Mahogany) includes two chairs- $18,400.-
#10 Humidor from Walnut burl #3 of 3 – $3,100.-
#14 Ribbon High Cabinet  #one of a kind – $11,700.-
#20 Manzanita High Table from Maple #4 of 5 – $9,500.-
#50 Oval Ribbon Table from Mahogany #2 of 2 – $6,400.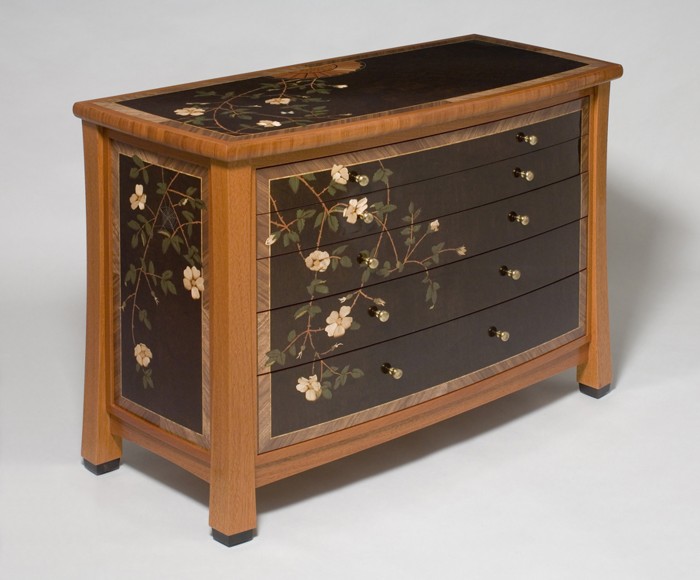 This magnificent dresser was made with all wood mechanic, as one would find in a finely made antique. The hardware placement is done with ergonomics in mind, and lends an interesting twist to the design. The front and sides are lightly curved, and the marquetry image spills down the side, featuring a wild rose vine, a web made of silver, then a spider, butterfly and ladybug made of stone.
I made two copies of this design. One was a Maple frame and Elm background that was sold, and this Mahogany version with the rare dark burl African Imbulia wood background.
It is available for US$ 34,600.-   For more info and pics, click here: Rose Chest