94. Hapu'u Shadow Box (previous)
(next)
​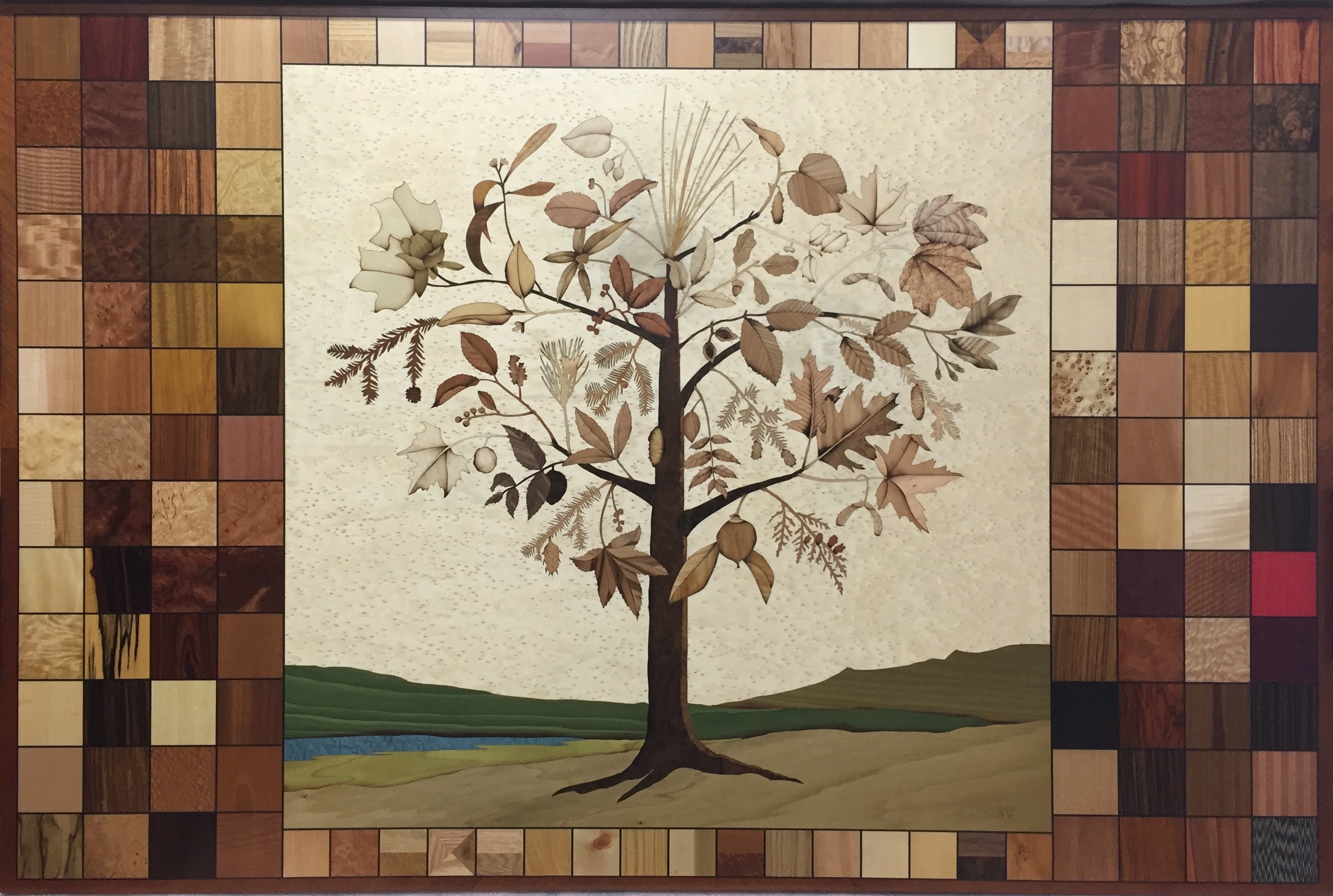 The concept was to present natural domestic, exotic, and remanufactured veneers in an creative way, which would have an educational component.
The 'Polytree' has 32 full-scale leaf images rendered from the most commonly harvested domestic woods, with the leaf image, made from that specific wood. Many of the leaf edges have been sand shaded, (charred) to add depth of dimension.
These 32 domestic woods are also represented in the smaller specimen squares of veneer, located directly over and under the main tree image. These veneer squares are placed alphabetically, top to bottom,(row 1-16)  then the next right row, 17-32, and so on. Some woods have different grain patterns displayed, from that particular wood species.
The Tree trunk and branches are different shades of natural walnut burl, and the image of the small lighter burl growth is ash burl. The image of the sky is 'recon' Birdseye maple, (remanufactured veneer), the mountains and lake, dyed wood veneers.
The side rows of the specimen panels have 99 different squares of 'exotic' raw natural wood veneers from around the world, and 5 'designer' or recon dyed wood veneers (the last five vertical squares lower right). Pdf list of these 104 veneer types.
This panel was assembled with the help of Dominique Reboul, Spider Johnson, Tom Duffy and Randy Viscarra, Veneers were supplied by HPVA, Certainly Woods, B and B Rare woods, Alpi, and Tabu (dyed veneers from Italy.)
There is an educational 'find the wood' interactive I-pad display to accompany this marquetry panel, which is displayed in the lobby of the HPVA (Hardwood Plywood and Veneer Association) in Virginia.
Dimensions: 6′ (183cm) wide x 4′ (122cm) tall
Finish: Conversion lacquer, Satin buff.
Materials:  32 Domestic veneers, 99 exotic veneers, 5 reconstructed/dyed veneers laminated onto medex core.
Domestic woods on the tree image and on top and bottom bars:
1. Alder- Red Alnus rubra
2. Ash- white(A), burl(B) Fraxinus americana
3. Basswood- Tilia americana
4 Birch- plain(A), rotary(B) betula alleghaniensis
5. Butternut- Juglans cinerea
6. Cedar- western red(A), aromatic(B) Thuja plicata
7. Cherry – black, plain(A), figured(B) Prunus serotina
8. Chestnut – Castanea dentata
9. Douglas Fir- Pseudotsuga menziesii
10. Elm- Red/Slippery- plain(A), burl(B), golden(C) Ulmus rubra
11. Gum- Red Liquidambar styraciflua
12. Hemlock – Tsuga heterophylla
13. Hickory- nutmeg Carya myristiciformis
14. Holly- Ilex opaca
15. Koa- acacia koa
16. Maple- hard/sugar plain(A), quilted(B), birdseye(C) Acer saccharum
17. Maple- soft/red Acer rubrum
18. Madrona- Arbutus menziesii
19. Myrtle- plain(A), burl(B) Umbellularia californica
20. Oak Red- plain(A), rift,(B), rotary(C), burl(D) Quercus
21. Oak White- quartered(A), rotary(B) Quercus alba
22. Persimmon- Diospyros virginiana
23. Pine- eastern /sugar (knotty) pinus strobus
24. Pine- table mountain (Carolina Yellow) pinus pungens
25. Poplar- white rotary (A) greenheart(B) Liriodendron tulipifera
26. Redwood- quartered (A) burl (B) Sequoia sempervirens
27. Sassafrass- Sassafras albidum
28. Spruce- Picea rubens
29. Sycamore- platanus occidentalis
30. Tupelo- black gum, Nyssa silvatica
31. Walnut- plain(A), burl(A) juglass nigra
32. Yew- Taxus brevifolia
Exotic veneer list:
©2017 Paul Schürch Woodwork
94. Hapu'u Shadow Box (previous)
(next)